Quick Ship Program
Tennsco's Quick Ship: Wide selection in stock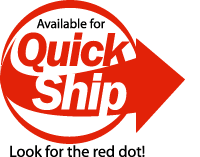 Tennsco has an extensive inventory of its most popular products for quick delivery. In most cases products will be out the door within 48 hours of order receipt.
With our Quick Ship Program, customers receive in-stock, top quality items they expect from Tennsco, faster and without the extended and inconsistent lead-times of competing products. We have streamlined inventory processes and procedures to maintain a ready-to-ship supply of hundreds of products in a variety of colors, sizes and designs. Whatever the need, Tennsco can meet it with fast, damage-free delivery.
For a complete listing of products offered in our Quick Ship Program, click to view our Office Furniture and Industrial Storage Products Price List. This 56-page catalog features products, dimensions, prices, and Quick Ship availability.
For larger orders, please contact customer service for availability at (866) 446-8686.
In addition, Tennsco upholds an outstanding reputation for the manufacturing and timely delivery of custom or specialty orders, as well as a commitment to customer service that exceeds expectations.