Kompakt® by Tennsco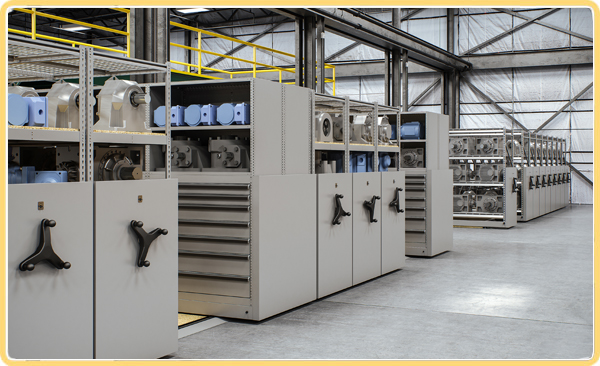 Kompakt® is Tennsco's premiere mobile shelving solution. The Kompakt mobile storage system is designed, built, installed, and maintained to meet your budget today and hit your financial returns tomorrow!
Not all mobile storage systems are the same. Kompakt adheres to local code compliance issues and can be designed around existing structural objects in any environment. You will feel and see the Kompakt system differences.
Kompakt can be used for files, archive boxes, books, binders, artifacts, valuables, collectors' items, uniforms, guns and weapons, sports equipment, and much, much more.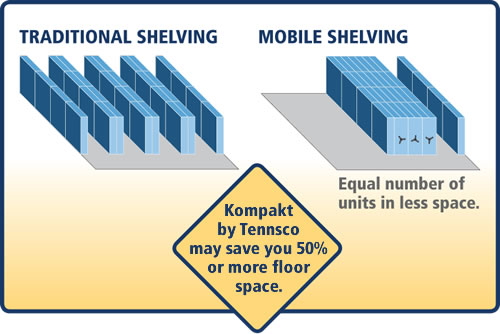 Superior Performance for a Smart Investment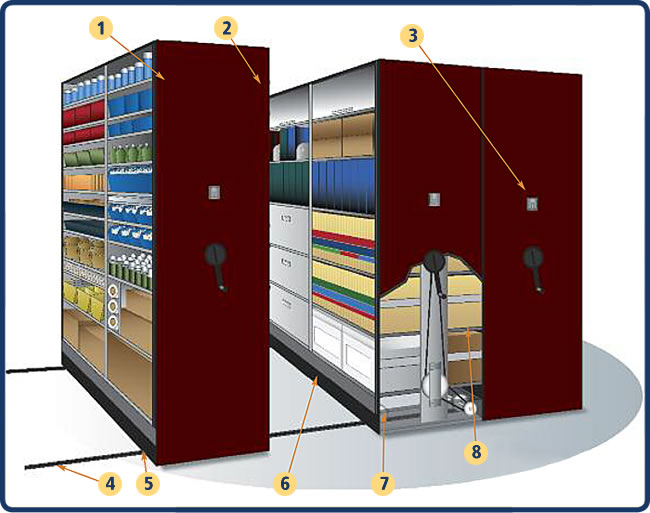 End Panels – Choose from laminate or powder coated 18 gauge steel end panels; virtually anything is possible to meet your decor and storage requirements.
Three Models – Electric, Mechanical Assist and Manual driven models are available.
SafeSpace™ Family of Protection Systems – Aisle locks, touch bars, mechanical floor level safety, safety beams and other passive and active safety systems are available to protect your personnel and items.
Rail & Deck – The rails and deck can be modified based on a building's structural requirements and needs.
Anti-Tip Protection – Carriage and rail design provides stability in all seismic active areas.
Carriages – Heavy duty construction designed to meet and exceed the weight and usage requirements.
5" Carriage Wheels – All wheels on one side are driven. 5" diameter wheels with a full 5" contact bearing surface (actual O.D. – 5.38"). Double or center flanged heavy duty wheel construction meets or exceeds weight and usage requirements.
Shelving – Select from any of Tennsco's shelving or storage units ... new or existing ... your storage requirements are easily met.
Wheel and Rail Options
Wheels

Low-Profile Double-Flanged
True 5" diameter wheels throughout are fitted with permanently lubricated pillow block wheel bearings, which deliver smooth, consistent performance with no maintenance requirements.

Low-Profile Center-Flanged
Complete size flexibility with system heights from 4' to 12'; carriage lengths from 3' to 80'; and carriage depths from 1' to 5' with single or double-entry shelving, cabinets, lockers, weapon racks, etc.
Rails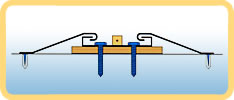 Rail Ramp System maintains existing floor covering without modification.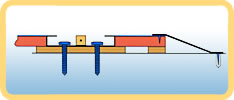 Sub-floor System can be carpeted or tiled to the top level of the rail.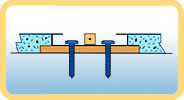 Concrete-Embedded System provides flush installation in new construction.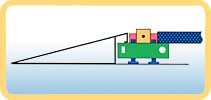 Modular Deck does not require permanent floor attachment.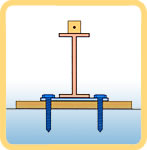 Structural Rail System allows rail to be used as a structural support member.
Drive System Types

Mechanical Assist
Mechanical Assist provides economical high-density storage wherever you need it. With an easy turn of the handle, this highly efficient system glides to position allowing the operator to move up to 10,000 pounds of stored items with just one pound of force.
Moving an entire range of carriages take less effort than opening a standard file cabinet.
Six different gear ratios to reduce operator effort.
Three handle styles meet your needs:

Single Handle
Three-Pronged
Space Saving Fold-Away

SafeSpace Aisle Lock and mechanical floor level safety provides operators protection when in active aisles.
Optional SafeSpace protection systems are available.

Electrical with Touchpad Control
The Electric Touchpad Control is designed to provide maximum ease of use, storage density and trouble free operation. Tennsco is proud to provide facilities with a storage solution designed to meet their short term budgets while providing the greatest long term return on investment available.
Aisles can be accessed in as little as six seconds.
Security options restrict access to the entire system or to any single aisle.
A wide variety of standard and optional SafeSpace protection systems are available to help assure operator safety and material protection.
Entire system (not components) is C-UL-US listed.

Manual Glide
The Manual Glide handle delivers economical high density storage for light weight items for systems with 9 foot or shorter carriage systems. Operators simply move the carriages and they glide open for immediate access. Ideal for converting otherwise wasted space into a productive storage area.
Accessories and Options
Options:
Barrier Free Track
Automatic Aisle Lighting
Security Doors
Seismic Anti-Tip
Front & Rear Entry
Meets Local Code Compliance Issues
Design around Structural Objects to Maximize Density
Passive and Active Protection Systems:

SafeSpace Resistance Detection System (Any pressure on a carriage will stop system motion.)
SafeSpace Safeties (Floor or waist)
Aisle SafeSpace Lock
Key-Locks
Diagnostics Monitor
View Our Kompakt Brochure and Price Lists
Kompakt
Brochure

Kompakt Commercial
Price List

Kompakt GSA
Price List